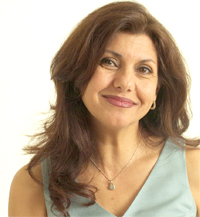 Katia Petersen, Ph.D., is an author and recognized training expert in school climate improvement, character education, social-emotional learning, violence prevention, and student and teacher support. She has delivered professional development in schools nationwide to help educators implement comprehensive prevention and promotion programming. To date, Dr. Petersen has trained over 65,000 educators and thousands of parents to enhance school success.

Dr. Petersen is featured in a 14-part video series entitled Teaching Students to Get Along, distributed nationally as a distance-learning course through 12 colleges and universities. She is the co-author of a book of the same title, released in fall 1995, rated #5 in the Top Ten Books of 1996 by the National Association of Elementary School Principals. Teaching Students to Get Along staff development videos have won a Teacher's Magazine, Teacher's Choice: 1996 Excellence in the Classroom award.

Dr. Petersen's formative experience began in clinical environments with children ages 3–18 as a child psychotherapist where she developed family and child treatment programming using expressive therapies. Afterward, she changed focus from intervention to prevention and education. She was employed in the St. Paul (MN) Public Schools as a school psychologist and prevention specialist from 1990–2000, where she implemented the Enhancing Student Well-Being Program in collaboration with the University of Minnesota, Educational Psychology Department.

Dr. Petersen created and implemented an innovative statewide program in Minnesota called the SafeTeam to prevent bullying and harassment while promoting student assets. In collaboration with the Minnesota Department of Education and KMSP-TV (UPN), the SafeTeam program delivered video, print materials and training to all 387 Minnesota school districts, including 500,000 K–6 students and 19,500 elementary school educators in 950 Minnesota elementary schools. The program won both the National Association of Broadcasters Best of the Best Children's Television Award and the National Association of Broadcasters National Service to Children's Television Award.

Among the titles Dr. Petersen has developed or co-authored are the following:
Enhancing Student Well-Being Theme Series (Petersen Argo, Inc.)
Girls and Boys Getting Along (Minnesota Dept. of Education)
Teaching Students to Get Along (Canter and Associates/Sylvan Learning)
On the Day You Were Born Creative Arts Curriculum (Minnesota Orchestra)
Reach for Your Dreams (Minnesota Dept. of Education)
Guardian Ad Litem Preservice Training Manual (Supreme Court of Minnesota)
Creating Safe and Caring Elementary Schools (National School Safety News Journal)
Safe & Caring Schools ® Resource Guides for PK-2, Grades 3-5, Grades 6-8
Katia Petersen is the author of Safe & Caring Schools®: Social/Emotional Resources to Improve Academic Success and School Climate. A specialist in school- and district-wide program implementation and technical consultation, Dr. Petersen is currently implementing the grades PreK-8 Safe & Caring Schools program after 6-years of research and development in schools.